---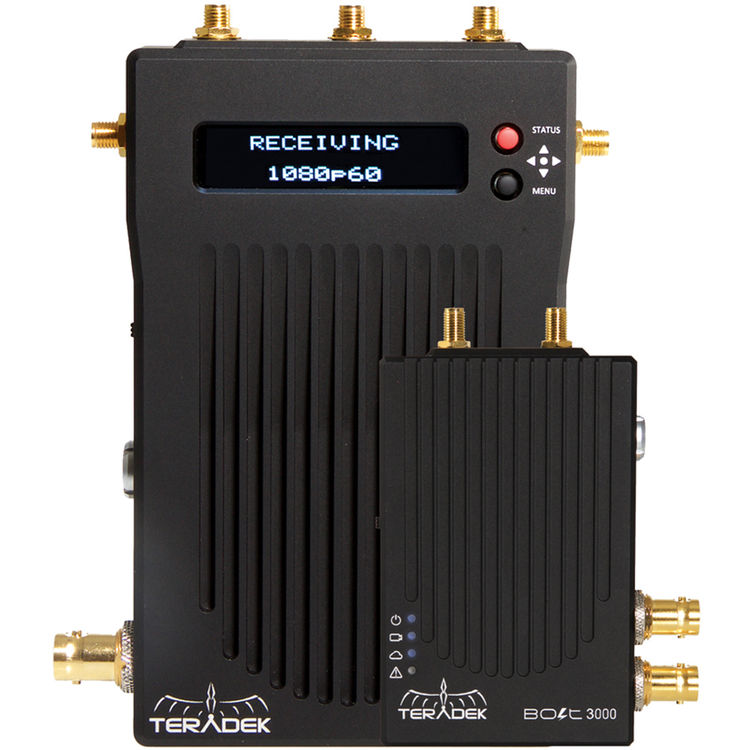 Transmit uncompressed 1080p video wirelessly over 3000 feet line-of-sight with the Teradek Bolt Pro 3000 Wireless Video Transmitter/Receiver Set. Included in this set are a Teradek Bolt Pro 3000 transmitter and receiver, both equipped with 3G-SDI input/output. The transmitter can pair with and multicast to up to four receivers (additional receivers not included). When transmitting uncompressed video, latencies of less than one millisecond can be achieved if no other video processing is necessary.
---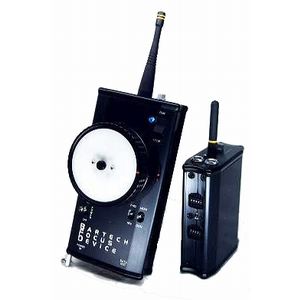 The B.F.D. exceeds the performance of the old standards (Seitz WRC-4) at a fraction of the price. Its compatibility with exsisting motors (Heden ZB/SLD FMG-6) allows the use of readily available used equipment as well as the new M-One motor. Its modular approach and interchangeable components allow you to start simple and build your way up to a full featured system while providing back-ups in case of equipment failure.
---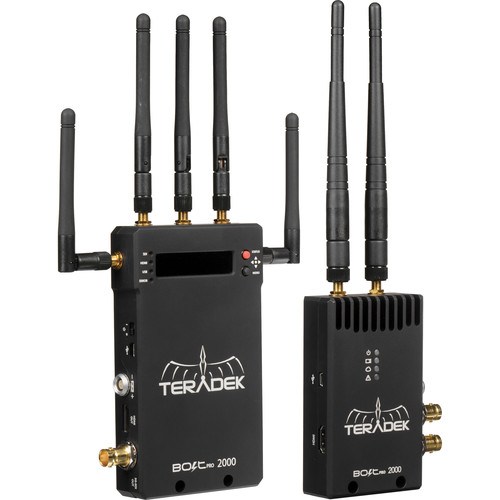 The Teradek Bolt Pro 2000 3G-SDI/HDMI Wireless Video Transceiver Set is a latency free wireless transmission system that sends 4:2:2, 1080p60 video up to 2000 ft over the unlicensed 5GHz band. It includes one transmitter and one receiver, both featuring 3G-SDI and HDMI connections. Both can also be outfitted with high gain antennas for increased range and resiliency.
---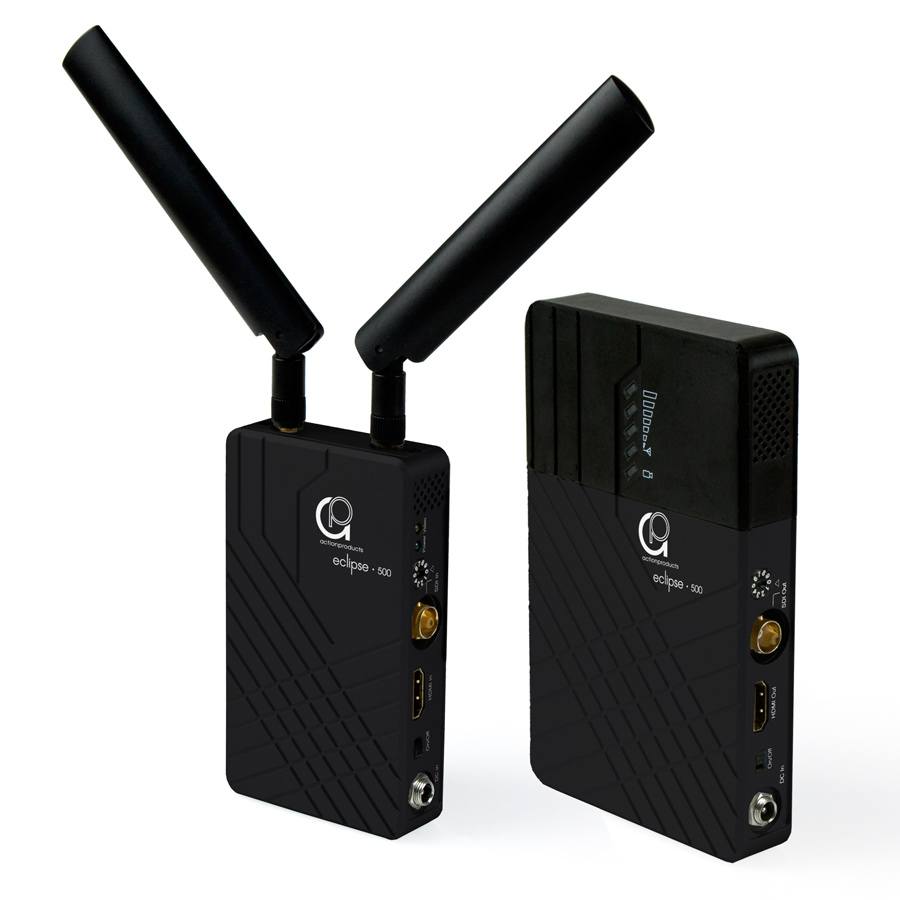 The "eclipse 500" utilizes today's most advanced wireless video transmission technology, which offers broadcast-class and uncompressed 3G SDI/HDMI HD video signal transmission with zero delay. The set includes one transmitter and one receiver, where the transmitter provides a 3G/H D SDI input and a HDMI input, the receiver provides a 3G/HD SDI output and a HDMI output.
---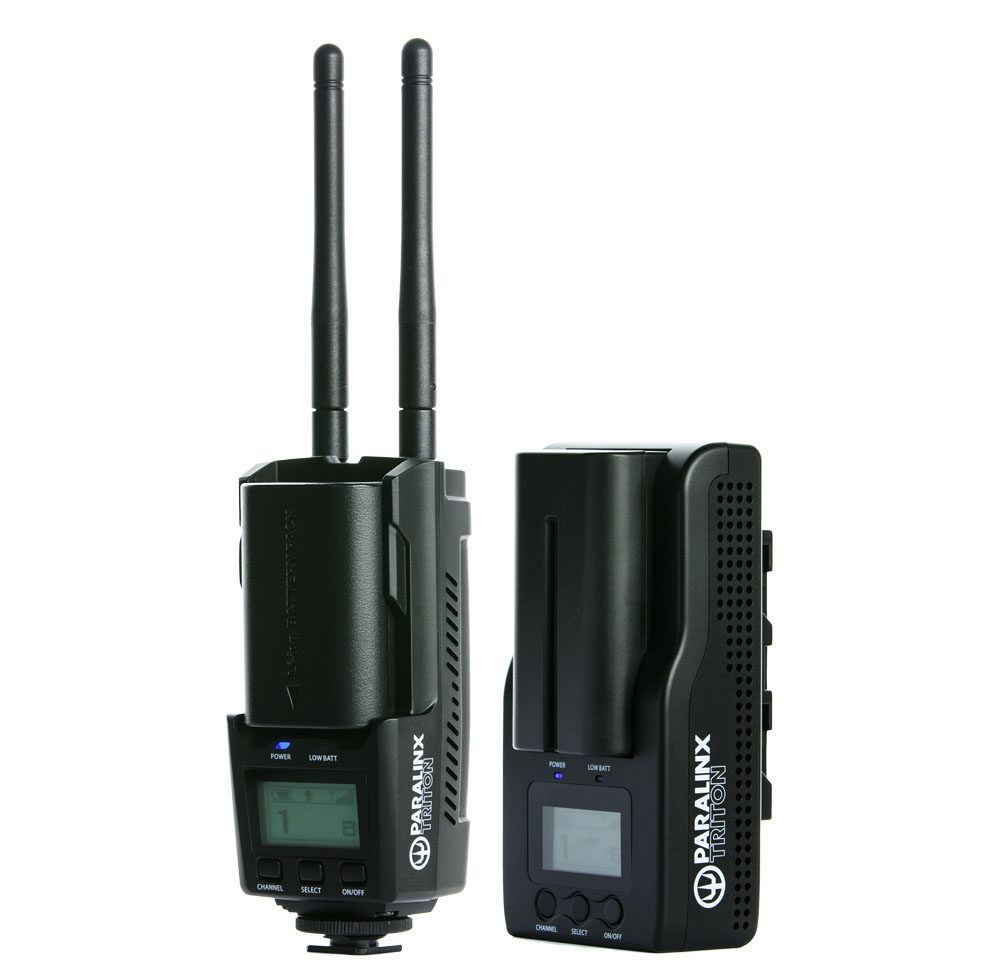 Paralinx Triton The Paralinx Triton is the next-generation wireless video solution for DSLR videography, as comfortable rigged to a handheld gimbal system as it is on an unmanned aerial video platform. With a compact and lightweight design, integrated battery plates and unheard-of range for such an affordable price, the Triton system fits seamlessly into any production environment.
Features Include: – Receives a FULL-HD signal up to 1080p/60 in REALTIME (less than 1ms) – Up to 450 feet/140m of range – Manual Channel Selection within 5.1-5.8GHz spectrum (8 channels) – Connect unlimited receivers to each Triton transmitter – LCD displays signal strength, battery charge, and channel selection – 1/4-20 mounting option – Integrated battery plate to power receiver from an NP-F battery – 6-17V DC power input – 128-bit AES Encryption